Nurturing grassroots level sporting success
Encouraging sports at the grassroots level is the cornerstone of creating future sporting success.
Talented young athletes and sportsman need nurturing to fulfil their potential. It takes time, commitment, energy, resources. Anyone involved in grassroots levels sports will already know this. They work tirelessly to support the individuals and teams' aspirations and goals.
---


---
Daring the dream
These community stalwarts dare to dream knowing that success or failure is not always the outworking of talent, desire, ambition but also of the resources available in which to train, to learn, to improve. Those at the forefront of these community efforts know that having access to the right facilities is a game changer. The problem is that these facilities cost, a lot.
---
---
Inadequate Funding
Why do we as a country fail to live up to the promise, why does so much talent fail to mature and fulfil their early promise? The answer, put simply, is the lack of adequate funding to create the facilities needed. This coupled with using outdated building methods amplifies the problem. It is a vicious circle.
---
---
Maximising Funding
If new facilities are required, then a new approach might help to keep the costs down without reducing the quality and usability of the building. One of the growing areas of construction is modular building for two reasons:
Faster build - less site time – leading to less disruption to team training and play
Less costly – modular is significantly lower cost than traditional build method
Our recent experience shows that this modular building method is certainly the 1st choice for professional teams. And more and more grassroots clubs are looking into modular as an option to introduce new and exciting facilities. Perhaps that could be your team?
---
Savings and how to use them
The savings made by choosing modular can be spent on adding extra value such as new training kit and equipment or providing community facilities like a social space for private functions. This can make a huge difference. Clubs can rent out this new function space to generate sorely needed extra income.
Clubs should also bear in mind that modular construction companies frequently have lease back as an option. This helps by reducing the amount of money needed to be raised. Modular - all together a very worthwhile investment.
---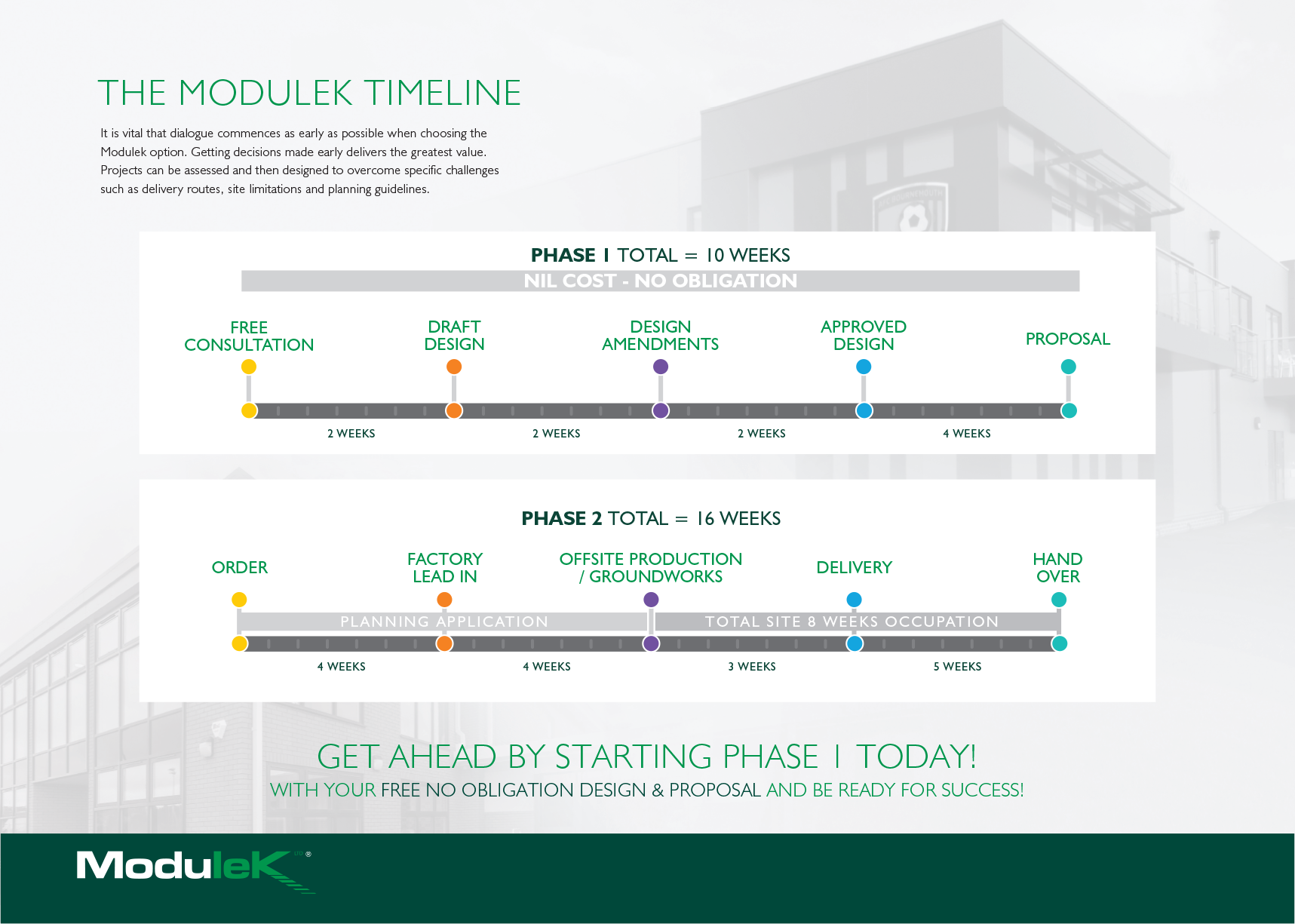 What next?
It is vital that dialogue commences as early as possible when choosing the Modulek option. Getting decisions made early delivers the greatest value.
Projects can be assessed and then designed to overcome specific challenges such as delivery routes, site limitations and planning guidelines.
If you would like a free assessment to understand how to utilise fully your space that delivers maximum value to all users, please get in touch today. Our design team will advise you on how best to deliver a building that would increase the profitability and enhance the value of your building. We simplify all the stages and are on hand to help you every step of the way to ensure the process is as easy as possible.
---